Download in:
English,
Urdu
Dated: 7th May, 2015
HEAD OF AHMADIYYA MUSLIM COMMUNITY ATTENDS JAMIA UK'S ANNUAL SPORTS COMPETITION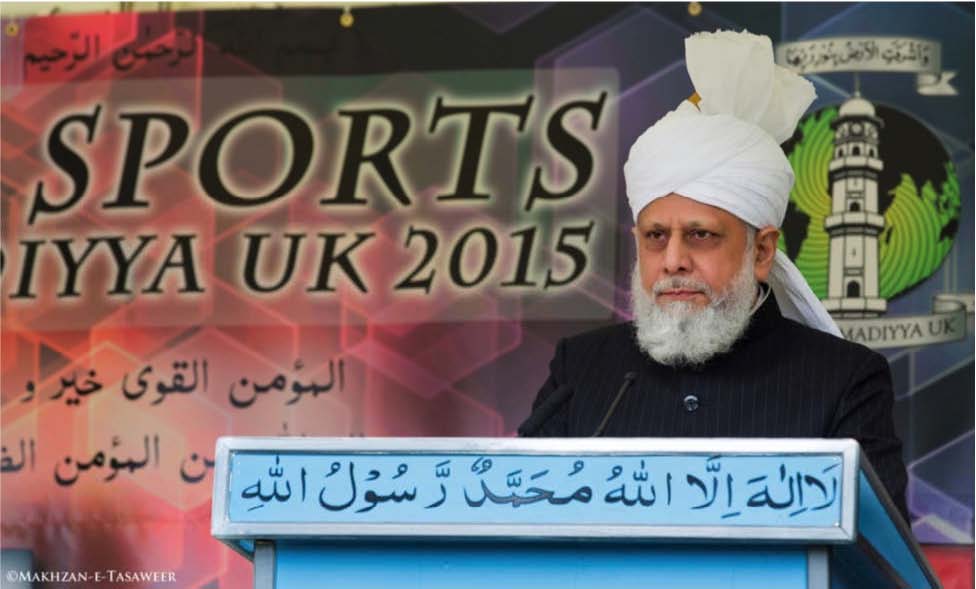 Hazrat Mirza Masroor Ahmad reminds students of importance of physical health and fitness
On 2nd May 2015, the World Head of the Ahmadiyya Muslim Community, the Fifth Khalifa, His Holiness, Hazrat Mirza Masroor Ahmad attended the concluding session of the 10th Jamia Ahmadiyya UK Annual Sports Competition. The 3-day event was held at the College premises in Haslemere, Surrey.

The highlight of the event was the concluding address delivered by Hazrat Mirza Masroor Ahmad in which he spoke about the importance of maintaining physical health and fitness throughout life.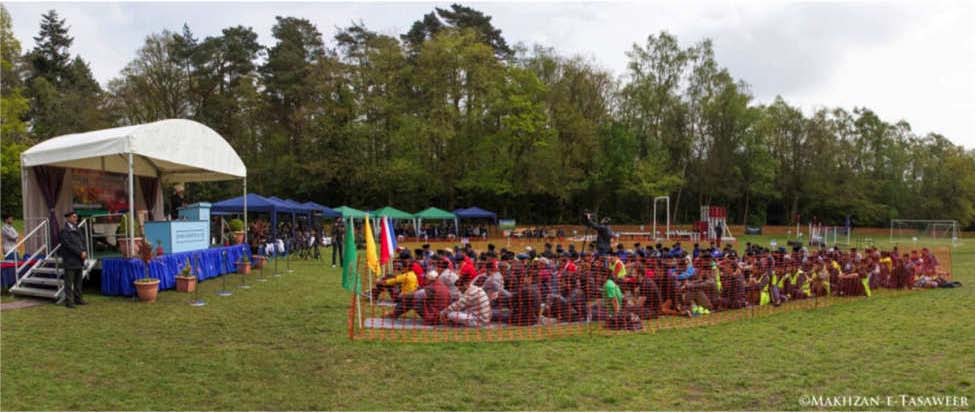 During the event, teams from the five houses of the college competed in 18 different sporting events including football, weightlifting and tennis.
In the concluding session, held in the presence of His Holiness, the students took part in Jamia's unique and popular obstacle course known as the 'Rok Dhor'.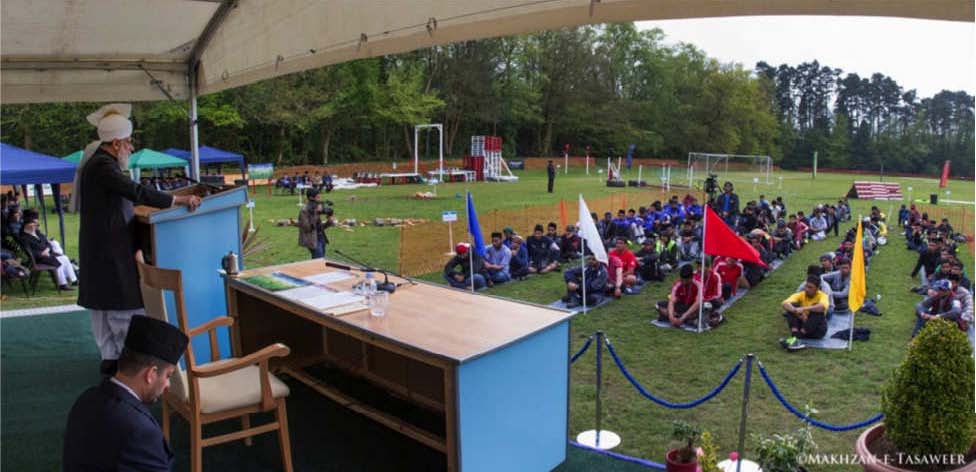 Graduates from Jamia Ahmadiyya UK also competed against the current students in volleyball and tug of war exhibitions. In both events the current students defeated the graduates.

Following a prize distribution ceremony, Hazrat Mirza Masroor Ahmad delivered the concluding address to the students and assembled guests.
His Holiness said that maintaining physical health and fitness was important for all Missionaries of the Ahmadiyya Muslim Community and he gave the example of how the Promised Messiah (peace be upon him) himself used to regularly take exercise in the form of long walks.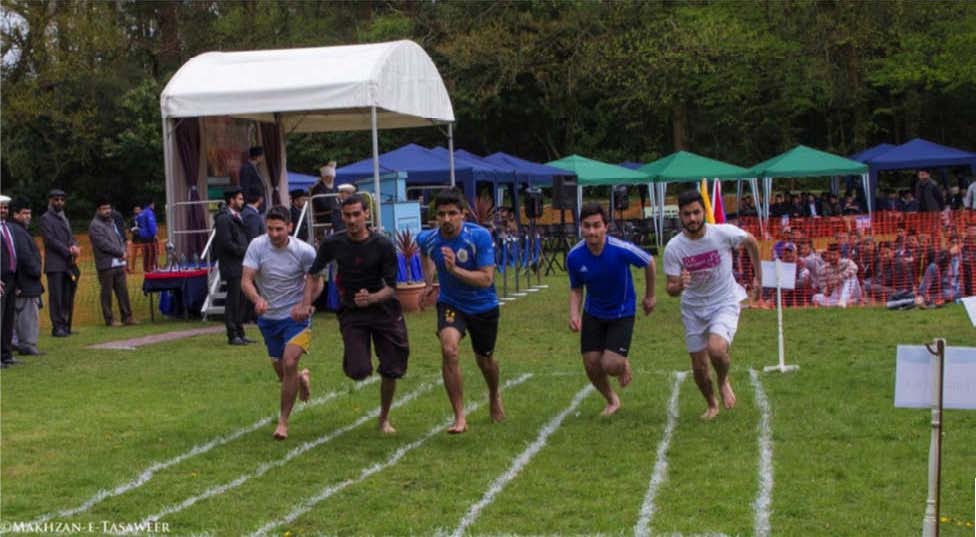 His Holiness said that sports were also a good way of engaging the youth and so young Missionaries should participate with other youths in sports, exercise and outdoor events.
Hazrat Mirza Masroor Ahmad said:
"I have received good reports about the previous graduates of Jamia Ahmadiyya UK that they are reaching out to disaffected youths and bringing them back towards the true teachings of Islam and strengthening their bond with the Ahmadiyya Muslim Community. One of the ways they are doing this is through sports and outdoor activities."
Hazrat Mirza Masroor Ahmad continued:
"All of you should also join in with other youths in their sports and outdoor activities as this will enable you to set a positive example for them and to be a role model. This is one of the reasons that I encourage all the students in Jamia Ahmadiyya to regularly participate in sports and to do exercise."


Hazrat Mirza Masroor Ahmad said the students should undertake activities that strengthen the entire body and in particular it was important to have a strong core.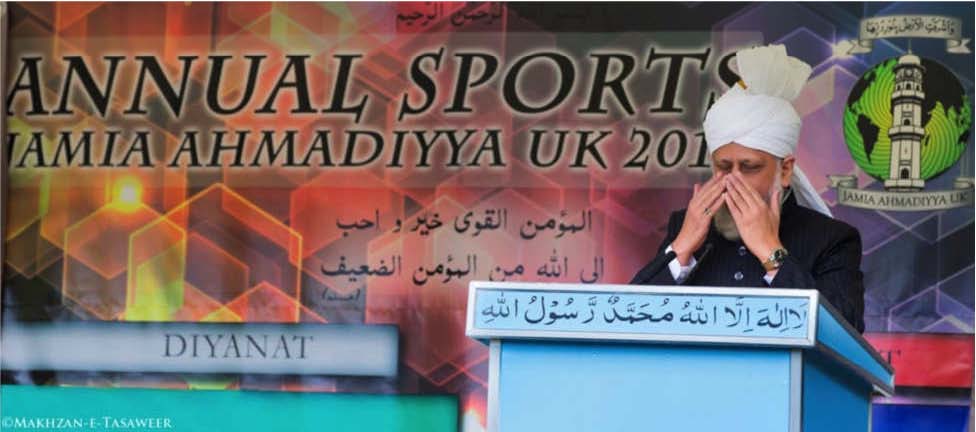 Concluding his address, Hazrat Mirza Masroor Ahmad prayed:
"May Allah bless you in all aspects of your lives and always grant you good health. And may He enable you all to increase in your knowledge and wisdom so that you can fulfil the true objectives of being students of Jamia Ahmadiyya UK."
END RELEASE
---
For further details please contact:
Incharge Press & Media, Ahmadiyya Muslim Jama'at India,
Qadian-143516, Distt, Gurdaspur, Punjab,India,
Mobile: +91-9988757988, Email:
[email protected]
,
Tel: +91-1872-500311, Fax: +91-1872-500178
Noorul Islam Toll Free Number: 1800-103-2131